Major Crash on Leathhead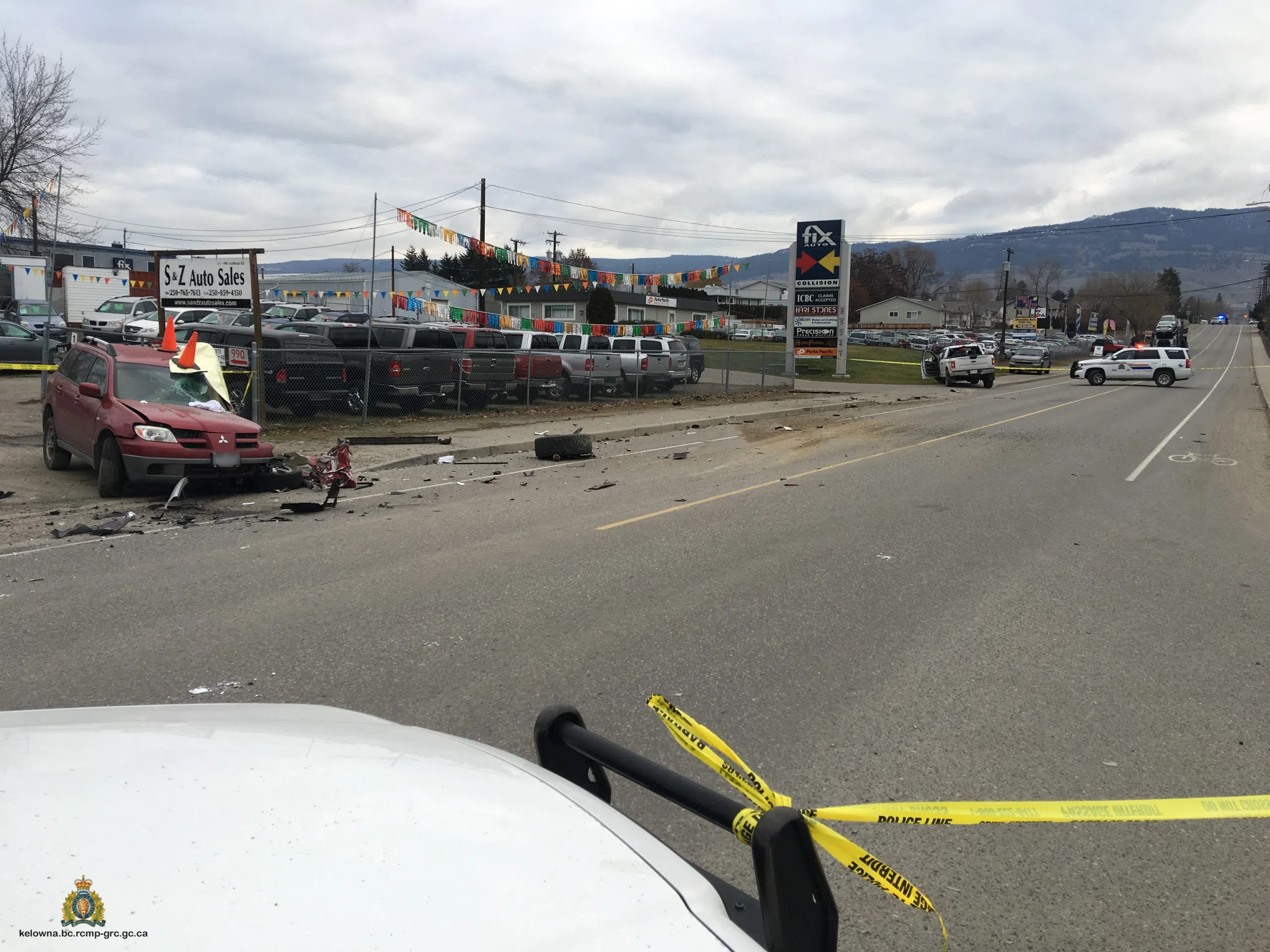 Dec 05, 2018
Jasmin Doobay
Kelowna RCMP Municipal Traffic Services are now investigating a serious collision which sent a man to hospital with significant injuries and prompted the closure of a portion of Leathead Road early Wednesday morning in Kelowna's Rutland.
On December 5, 2018 shortly after 7:30 am, an officer with RCMP Central Okanagan Traffic Services (COTS) came across a serious motor vehicle collision on Leathead Road near Mcphee Street in Kelowna.
Initial findings at the scene suggest that a southbound white Ford F150 pickup truck crossed the centre line and collided nearly head on, with a red Mitsubishi Outlander.
Fire fighters of the Kelowna Fire Department were needed to safely extract the seriously injured driver from the red Mitsubishi SUV. The male driver sustained serious potentially life threatening injuries and was rushed to hospital by BC Ambulance Service.
The suspect driver of the white Ford pickup truck allegedly fled from the scene of the crash on foot.
"An area of containment was immediately established around the collision scene and Police Service Dog Ice, of the Kelowna RCMP Police Dog Section was brought in to conduct a search," states Cpl. Jesse O'Donaghey of the Kelowna RCMP. "A suspect was taken into custody, after being tracked by the police canine into the fenced compound of a nearby commercial property."
The male suspect faces a number of potential criminal charges and remains in police custody at this time.
The police investigation is continuing at this time. RCMP can confirm that the white Ford F150 pickup truck had been reported as stolen from the Shannon Lake area in West Kelowna. The vehicles registered owner was tracking the stolen truck's positioning through GPS. Police were patrolling for the stolen pickup truck when they happened upon the collision.
As a portion of Leathead Road remains closed to allow a specially trained collision reconstructionist of the RCMP Integrated Collision Analysis and Reconstruction Services (ICARS) to conduct a full examination of the scene.
If you witnessed this crash and have not yet spoken to police you are urged to contact the Kelowna RCMP at 250-762-3300. Or remain completely anonymous by calling Crime Stoppers at 1-800-222-8477 or by leaving a tip online at www.crimestoppers.net