SOLO: A Star Wars Story NON-SPOILER Review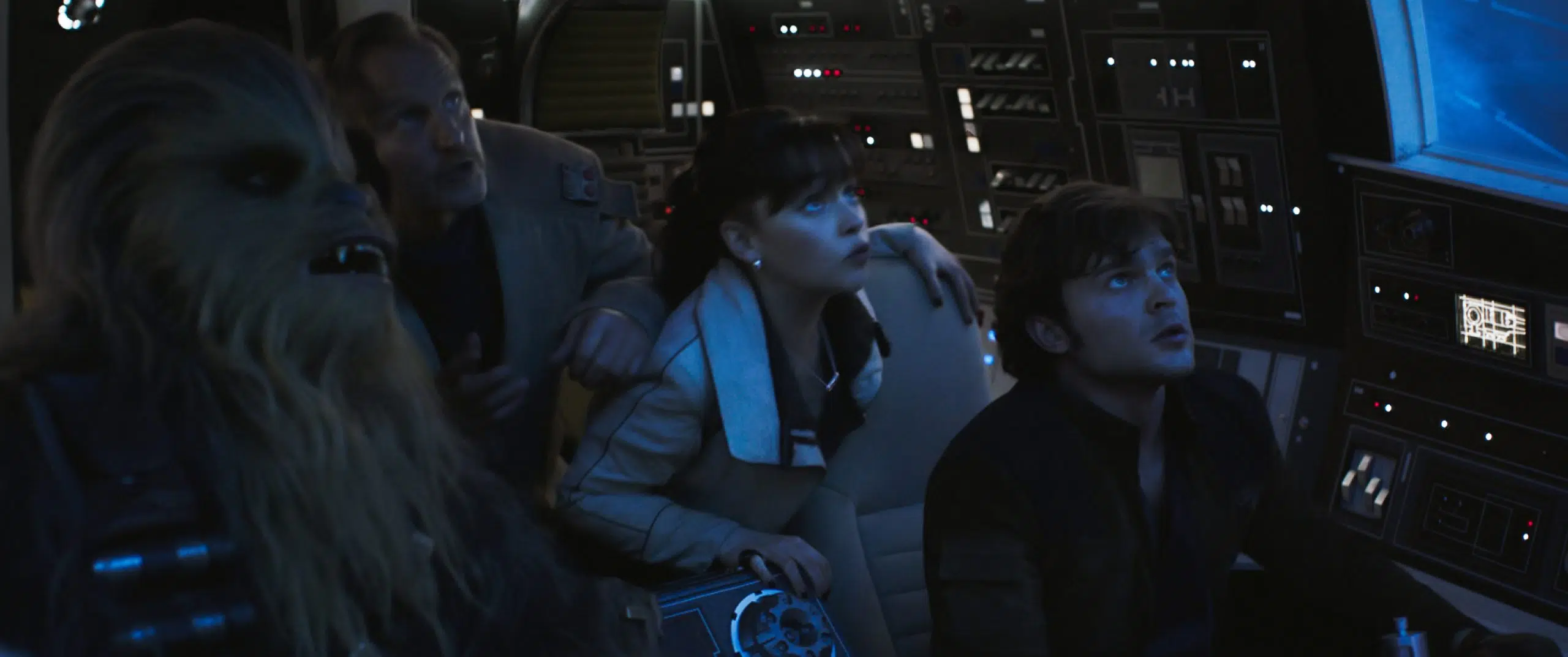 May 25, 2018
Darren Worts
It's been 3 years since Kathleen Kennedy & Lucasfilm made the announcement that we were going to get a stand alone Han Solo film that would be written by the character's creator, Lawrence Kasdan.  I have been very critical for our "need" for this movie since its announcement.  I was on the side of "Who was asking for this movie".  It made no sense to me to recast the character and give us an origin story that nobody was really curious about.  But when you're a money printing machine like Disney/Lucasfilm, you want to churn out as much popular content as you can so you can continue to rule the world.  Disney is basically doing that now.  Between their Star Wars & Marvel properties ALONE, they're bringing in BILLION a year.  So making this movie makes sense from a business standpoint, but didn't from a fans.  With all of that being said.. this is a movie review after all, so it's time to review Solo: A Star Wars Story.
THE PLOT
If you saw the trailers.. you basically got it summed up.  Han (Alden Ehrenreich) wants to become a pilot.  Best pilot (flyer) in the galaxy.  From that, he enlists in the Imperial Army and eventually turns into the Scruffy Nerfherder we all remember… kind of. We'll get to that in the "Characters" portion.  The "Plot" of this movie is very much a SURFACE plot and a FAN SERVICE plot.  There were lots of things that happened that left me questioning the reason they happened.  Why certain things would happen at the beginning of the movie, that would just wind up being meaningless either directly after the events transpired, or you realize that the last 40 minutes didn't even need to happen if people would have just had a conversation.  On the surface, this movie is a heist film, meets gangster film, meets social commentary film, meets comedy.  Most of the comedy fell flat for me, but it was delivered in a very "Star Wars" way.  Handled FAR better than the comedy that was used in "The Last Jedi".  There were moments that I found myself cringing at the choices that the writers made for Han's character.  Also, the inclusion of when to use and not use subtitles for certain aliens felt odd to me.  I love hearing aliens speak in their native tongue and then wondering how anyone could possibly understand them.  Instead they chose to use cartoony sounding voices for some of the characters, one specifically in the opening scene, that really took me out of the movie and had me worry about the next 2 hours and 15 minutes.
THE CHARACTERS
Let's start withe obvious one, Han Solo.  I felt so sorry for Alden Ehrenreich when he was cast in this role.  The internet, myself included, became VERY judgmental to everything he would say, every mannerism he'd make and every glance he'd shoot someone in the trailer.   Then the rumors that they needed an acting coach for him began to circulate and the internet exploded even more.  People saying the movie was doomed and he would be the worst part.  Thankfully, as per usual, the internet over reacted and was wrong. For the most part.  Alden did an Honorable job of portraying the character! He was limited in what he could do with Han due to what he was given with a script, but overall I had moments of thinking, "Yeah, that's something Han would say/do".  Especially with his interactions with Chewbacca!  Getting their introduction to each other was a joy to watch and the relationship between them for the remainder of the film was a highlight for sure! But with all the great moments, there were also a handful of bad ones.  The writers chose to do things with his origin that wasn't the biggest fan of.  I actually said an audible "No" in the theater with one moment in-particular at the beginning of the film.  But at the end of the day, his character had enough Han Solo in him to pass as the character.  He's never going to nail a Young Harrison Ford like River Phoenix did with Indiana Jones and a Harrison For impression isn't what I wanted out of him.  I wanted the Character of Han Solo from the books, voices & comics.  For the most part, I got that.
Lando Calrissian (Donald Glover) was great in the film!  He managed to capture the suave, cool, sexiness of 70s Billy Dee Williams, but put his own "Childish Gambino" flare to the character.  It was great seeing Lando interact with his co-pilot "L3", who was a social commentary character that was fighting for equal rights with the droids.  This made for some excellent comedy between the two and even the rest of the characters in the film.  Lando was used in a way that paid homage to Billy Dee from the original Trilogy, but also gave us a new side to the character.  You understand the Love/Hate relationship between he and Han and it makes for some of the most workable comedy in the film.  Coming out of this movie I was defilement one of those people who was left wanting more Lando and if I know Lucasfilm, I'm sure we're going to get some information on a Lando stand alone or him becoming a more integral part of the Solo series going forward.
Qi'ra (Emilia Clarke) surprised me a lot!  I went into this movie terrified that I would only see Daenerys Targaryen.  I had the same problem with her character in Terminator: Genysis.  I figured she'd just be some throwaway character that didn't really add or push the story forward.   Boy was I wrong.  She was fantastic!  I've loved Clarke since the first episode of Game of Thrones and it's amazing to see her FINALLY stepping into bigger (Not that GoT isn't big) roles and getting more screen-time in films.  I thought her chemistry with Han was spot on and from the opening scene you feel for her.  Even through to the end of the film you are just left wanting more. Her character was probably one of the more developed ones and also one of the characters most shrouded in mysteries. Coming out of this movie, I started to think that she might actually be one of the BIGGEST characters for this new spin-off franchise going forward.
Dryden Vos (Paul Bettany) was the Villain of the film.. I guess?  I would say that much like in Disney's Marvel movies, the villain was the weakest part of the film.  Bettany did a fantastic job with the character, but aside from him showing up in 3 scenes to push the plot forward,  you weren't really given any motivation for his character other than him just being a bad dude.  His little mini-lightsaber daggers were cool and Bettany gave a certain amount of Charisma, Charm & Comedy to the character that I felt worked overall, but that wasn't enough for me to really fear his presence throughout the film.  Vos felt very contrived and one dimensional while being just entertaining enough to not help but like him.  I would say that even though he is credited as the villain of this film, he's not really.  He's a catalyst for plot more than anything and Solo: A Star Wars story is almost a movie without a villain.  In a good way though.  It was more about the journey than what was pushing it.  I was okay with it at times, but I would have like a little deeper of a dive into who he was and what his role in the SWU (Star Wars Universe) is.
THE VERDICT
Solo: A Star Wars story is a good new addition to the new Star Wars lore.  It's one of the better films in the new canon we've gotten since the franchises rebirth in 2015, but a weak plot, surface characters, cheesy aliens, a plot twist you can see from 6-miles away & overall questionable writing was almost enough to ruin a movie that excelled in action set pieces, some of the best fight choreography in a Star Wars movie & special effects I've ever seen.  It lands above movies like The Last Jedi (2017) and all of the prequels, while falls behind the likes of Rogue One and classics like Empire Strikes Back.
6.5/10
— The Middle Show with Darren Worts