Deadpool 2 NON-SPOILER Review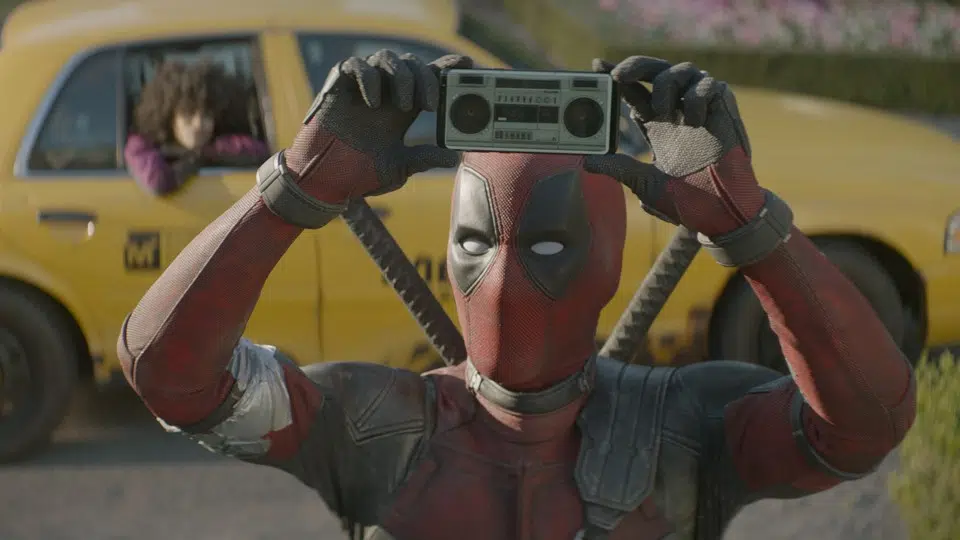 May 18, 2018
Darren Worts
Deadpool 2 is everything you'd expect it to be. If you go into this film expecting a larger scale, bigger action and a higher budget, you'd be right… but just barely.  All of that being said, that's not a negative to the 2015 Deadpool film follow-up.  It's actually something that works in its favor.  From the moment the film starts until the INCREDIBLE post-credit scene, I was smiling ear to ear and had the most fun with this movie I've had at the movies so far this year.  That includes Avengers: Infinity war.
THE PLOT
The plot of this film was pretty well summed up in the trailers, aside from a few other moments I'll keep out of this review because it's NON-SPOILER, but we find our Merc With A Mouth trying to protect a young Mutant named Russel (Firefist). Cable leaves his timeline to come back and carry out a mission to kill Russel.  From this, hilarity ensues.   This movie kept the narration feel of the first film and wove it into the story in a way that didn't feel like they were copying the original, but just carrying on with the storytelling.  That being said, LOTS of things carried over from the first film.  Weather it was jokes, bits, character moments and even insults.  From watching this film I could see why Deapool (2015) director Tim Miller wanted to step away due to creative differences.  I'd still be curious to see what Miller's vision would have been for this movie, but David Leitch (John Wick) did a fantastic job keeping the tone the same and staying true to the character… speaking of characters.
THE CHARACTERS
Ryan Reynolds was amazing as Deadpool.  But we already knew that.  He continues to embody that character to the point where you don't know where Reynolds ends and Deadpool begins.  He definitely upped the ante with breaking the fourth wall and making both meta and pop-culture references.  It could have gotten out of hand or felt like you were being beaten over the head with it, but I never got that feeling.  Because of the first film, you expect him to make jokes about Thanos (Avengers: Infinity War), Goonies references in regards to Cable, jokes about Fox or Disney and what universe they're in, but I can see how some people may have thought that it got a little heavy with the references.  At the end of the day, that's the character of Deadpool.  Weather you've read the comics, seen him in animated form or played his video games, he's ALWAYS talking to the viewer and making connections to pop-culture.  I never felt like it was out of place or didn't' fit in this universe, but I can see that type of humor not carrying over into OTHER franchises as well as it would in this pocket universe.
Zazie Beetz' Domino is a GREAT addition to the team in this movie.  Her superpower, Luck, plays out beautifully on the big screen in such a way that you never want it to end.  There's a certain chase scene where her powers are so interestingly displayed that I couldn't help but smile and "wow" when certain things would happen and then pay off 2 minutes later.  Her chemistry with Cable & Deadpool is a joy to watch!  Her sarcasm and attitude mirror and challenges Deadpool's in a way that the joke always lands and when I walked out of the theater, like many others, all I could say was that I wish I got more of her character.  We know that the next movie is going to be "X-Force", so I expect her role to become larger going forward.  Especially with almost every review & test screening coming back with people wishing they got more of her character.  They even re-shot and re-wrote her part to give her more screen time in the final stages of the film-making, but even the added scenes left me only wanting more.
What can I say about Cable (Josh Brolin) that hasn't already been said.  This man is THE definitive embodiment of Cable I wanted to see on the big screen.  Sure, he's the ONLY one we have, but coming out of this movie I don't ever want to see another person play him.  I used to be a little wary of the casting when it came out.  I was on the side of people lobbying for Stephen Lang to play Cable, but Brolin absolutely crushed this part!  From the first moment you see him on screen, and realize which timeline he's coming from, to when you get to see him display his powers, you're sold.  The effects used to make the Nano-Tech on his body was incredible.  His action moments and futuristic weaponry were bad-ass.  His drive was understandable. His demeanor was perfect.  When you have a character as over-the-top and goofy as Deadpool you'd think that Brolin would have a hard time keeping up, but his deadpan delivery and dry jokes were a perfect mirror of Deadpools and, even though he's trying to attack the team, you can't help but love him! He fell victim to the same problem as Domino though.  I wanted more.  Yes, these are all side and supporting characters and it's Deadpool's movie, but this felt like it was a team movie in itself and that left me wishing we got more backstory with Cable and more screen time in general.
X-Force was probably the highlight of this movie.  Seeing them assembled and the recruiting scene stole the show.  I can't say much more than that, without giving away any spoilers, but there's members we didn't see in the trailers and some of the greatest comedic moments of the film take place from the formation of X-Force and on.  I could have watched a 90-minute movie of these characters interacting with everyone, training and going on a mission.  Also, the cameos… MY GOD THE CAMEOS! That's all I can say.
THE VERDICT
Overall, Deadpool 2 is PACKED with Easter Eggs, inside jokes for hardcore comic book nerds and stays true to the original film, while moderately expanding the universe and leaving you wishing you had more! I can't wait to see this movie again and again.  If I can make one recommendation, it's to watch the original and go directly into the second.  I had the pleasure of watching the "Deadpool Double Feature" where the second movie started IMMEDIATELY after the first and that only heightened the experience for me and make the jokes of the second one land harder.  Deadpool 2 is a Comedy/Action that doesn't stop the jokes, even when there's serious undertones and gives so many small nuggets of greatness that you'll be picking up on new moments and Easter Eggs after each viewing.
9.5/10
— The Middle Show with Darren Worts