Guest Blog: Brandon on the Powerball Show last week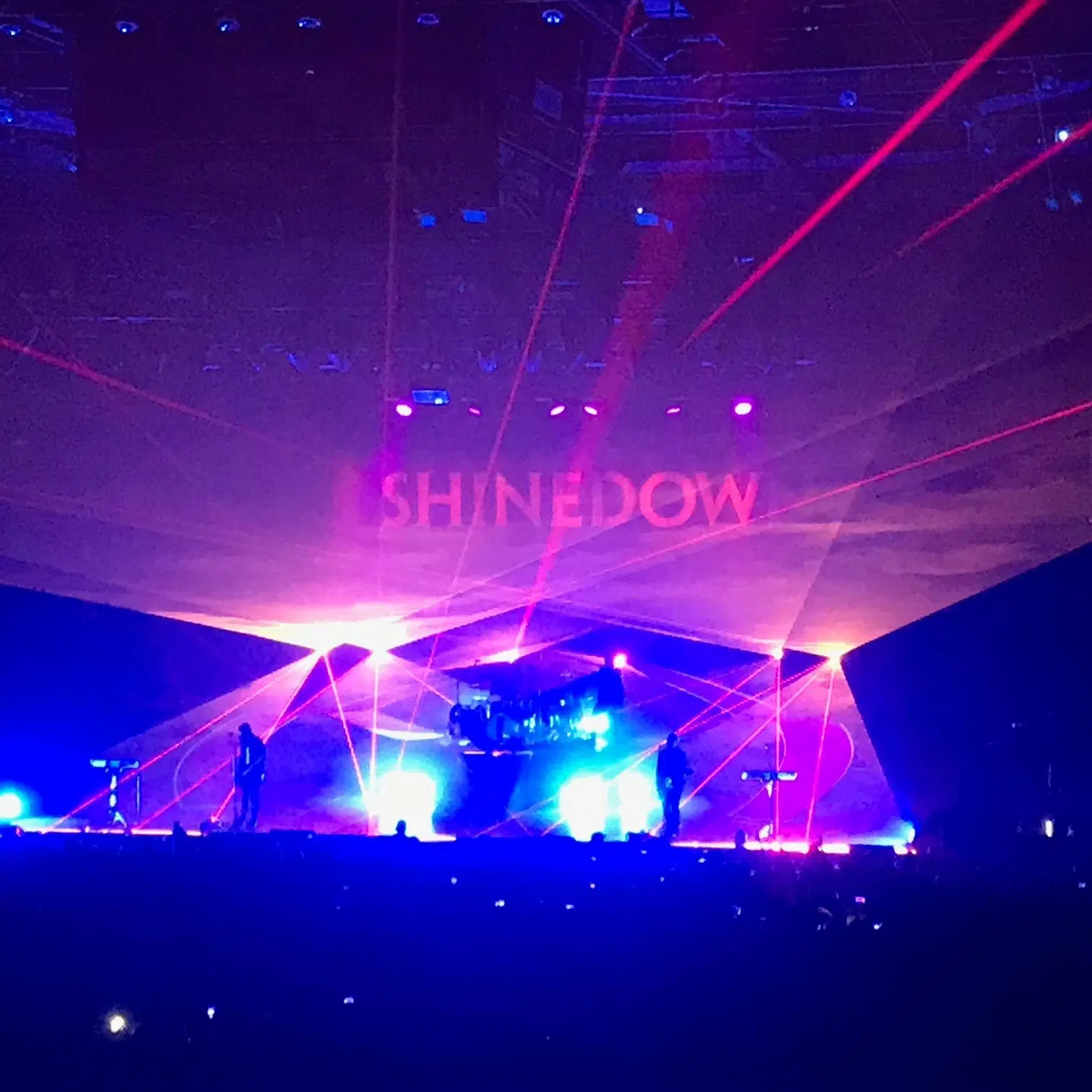 Apr 05, 2018
Jasmin Doobay
This was in my inbox this morning and upon reading, immediately took me back to last Tuesday night.  Thanks for sharing Brandon!  We look forward to your next review! – Jazz 
---
Crazy Times, Interesting Vibes, Excellent Noise Filled the       State of My…State of My Head!
A great artist by the name of Jason Mraz has an excellent song called "A Beautiful Mess", which is how I feel best described the evening, as I exited the SOEC nearing midnight on March 27, 2018.
Rewind…earlier that day…
This is not an ordinary Tuesday morning as you awake to start your day. Maybe you didn't really sleep much the night before, perhaps you worked all night and just couldn't go to sleep, but why?  Because it's finally concert day! The 24 hours or so leading up to the event are filled with excitement and anticipation, and you can't focus 100 % of your attention on anything else. For me, it starts as soon as I hit the shower before any concert, that seems to be my trigger, followed by a gradual build throughout the day of pure adrenaline. You half-ass your way through daily obligations and routines, all the while being completely distracted.  Counting down the hours until concert time, the day just isn't moving fast enough. No matter how hard you try not to think about it, it's just not working, damn it!  You have been listening to the artists you are about to see for days, but especially the hours leading up, getting yourself psyched up, while freshening up on the music and lyrics. You've searched up the bands you aren't familiar with on Google and YouTube. You may have consumed some pre-concert drinks and spent hours getting ready or had to race straight from work to the arena and didn't have the luxury of time, resulting in changing in the car, ladies doing their makeup and hair in the rearview and men drowning themselves in Axe or cologne.
Destination Reached…
You are now completely amped up, any exhaustion has been replaced with enthusiasm. No amount of caffeine could equal the natural shot of excitement you're feeling to wake you up. Stage 2 is that moment when my ticket gets scanned, and I enter the front doors of the building, it puts me at about 55-60% adrenaline. Stage 1 was the shower, try to keep up!
Hear it, feel it…
Hear the loud buzzing inside the building, not that of guitar amps, but people talking throughout. Anticipation is high for the unknown of what we are in for. As we wait for the evening's festivities to commence, I hear so much verbal noise, with the odd high-pitched squeal or burst of laughter from somewhere within crowd. I overhear conversations of people planning their night, some plotting about the fights they hope to engage in, how drunk they plan on getting, guys and gals daydreaming out loud about being sexually explicit with the performers. It's good to have goals in life, I guess!
Lights out, and two firsts…
Finally, after months, weeks, days, and hours…it's about to go down! With no introduction, 10 Years hit the stage and instantly start playing. I'm at 100% as soon as I hear the first sound of the guitars and drums coming together in unity to blast out the opening tune of the night.  Sounding great, they play on through the divided crowd of those who have no idea who this band is, those who simply don't care, those who have come only to see one or two specific acts, and certainly a very small portion of people who are fans and know exactly who this band is. Like true professionals, 10 Years stay laser focused on what they are doing, sounding tight and clean, while by way of movements and body language, seeming very much in to this performance. I'm diggin' it as they are progressing through the set nicely into a very well-done cover of Nirvana's "Heart Shaped Box". They bring it home with the song "Novacaine" and get a well-earned round of applause for doing an excellent job at being the "hype guys". Before stepping aside, the lead singer informs the crowd that this is a first for them, being the first time, they have ever ventured out this far in western Canada. Along with that was a concert first for myself, that being, I had never heard of 10 Years prior to them being on stage. That's not a bad thing though, as I had no pre-expectations of them. They were very fresh and new to me and I really enjoyed learning of a band I had never heard of.
Lights on, lights out and keeping it home grown…
With the fans warmed up, it was time for Canada's own One Bad Son to take the stage and keep it going. They were given the responsibility of keeping the crowd, as well as taking them up a notch, which is no easy task. However, they had a very slight advantage, as more people seemed to know who they are, and gave them a little more fan fair, yet still divided. As OBS played through a set that included "Scream for Me", "Scarecrows", and "Hurricane", amongst others, it became very clear they were having a good time, convincing the audience they were into what they were presenting.  As they wrapped it up, promising to come back to Penticton, I was overall impressed by them and was glad to have finally seen them. I was very curious about OBS before the concert, because I have been aware of them over the years and heard lots of their tunes on the radio, Facebook and YouTube. I'm a huge fan and supporter of Canadian musicians and rock bands who don't seem to get the credit or exposure they deserve, including the ones everyone forgot about along the way at some point or another, Default being a great example. OBS surely didn't disappoint, they sounded excellent, had a cool vibe and an all-around great set.  I consider bands like OBS to be grinders, and one common thing I found between them and 10 Years is that they were very rock 'n' roll, almost old school, nothing flashy about either band or their performances, yet their enthusiasm and eagerness to please the crowd had them looking like new rock bands with something to prove. I was overall impressed by OBS and was glad to have finally seen them.
Lights on, lights out and the "roots" of creative chaos takes over…
Guitar sound waves hit like a bolt of lightning, making the hair on my body stand up and the hair on my head and neck dance. The drums hit like thunder, you couldn't see it moving through the air but when it hit you, it was like being hit in the chest with a sledgehammer. Unified together it was hard hitting, ear blowout loud and aggressive, add in the unique lyrics and vocals of Maria Brink, mix it all together and it's In This Moment. They came out of gate swinging, not asking for anyone's permission, not asking for you to listen, rather demanding the stage, the whole building, and everyone's attention. Their stage presence was off the charts as they made a real theatrical show, it was an amazing spectacle to witness. The music aspect of it sounded killer and everything flowed well, presented together as an event all on its own. In This Moment tore through their extensive set, mainly playing their well-known songs, perfectly walking a fine line of it being gimmicky, and it being so unbelievable that you can't take your eyes off the stage. They engaged and encouraged crowd participation, it was creepy, metaphoric and unconventional yet beautiful, imaginative and so damn fascinating that you couldn't bring yourself to look away. They made you almost forget, just for a minute, that another band was still coming up after them. "Thank you, we love you Penticton, goodnight!"  I was left thinking "How in the hell do you follow that up?" (CAN YOU HEAR ME? WHAT? NO? I HAVE COMPLETELY LOST MY HEARING!)
Lights on, long delay, finally lights out…Won't be outshined!
"Watch you're back!" bellowed Brent Smith in his extremely versatile, yet highly underrated vocals. I don't think that he gets the credit he deserves for just how great he is vocally, the range he has is impressive, difficult, and rare.  Very few have what he has, in rock specifically, I can count on one hand, Brent Smith, Dallas Smith, and although I'm not the biggest fan, Chris Daughtry. The curtain dropped, revealing a captivating laser show, and the quartet that make up the band Shinedown, already in full swing, rocking the high energy hit song, "Sound of Madness", to open the set…no it's not macho madness! It became quickly evident that they had said to the other bands before them, "You guys were great, but hold my beer and watch this!" They proceeded to pull out hit after hit from their very deep and rich catalogue, like the concert was a greatest hits album.  The crowd was going crazy from start to finish, participating and harmonizing to every song along the way. Brent Smith was sure to let the building know that this was not his show, "This is you're show!" he told the crowd between songs, it was completely alive and electric. The relationship between the band and audience was very give and take, while they gave an unbelievable main event, the crowd gave back the excitement they deserved. Again, as has been the theme all night, they sounded clear, clean, and damn near perfect. After blowing our ears off with a display of fireworks, sparklers, and loud explosions, they wrapped up their performance, and it was anything but simple!
Simple Man!!! WOW!!!
Exit band, lights on for the final time and what a mess!…
As I turned to walk away, my feet were stuck to the floor from all the beer, and who knows what else, that was spilled everywhere throughout the evening, couldn't wait until they got home I guess!  As I get started on my exit, I find myself shuffling my feet, trying to navigate my way through the knee-deep sea of garbage and empties. Looking around, I see I'm in the company of some of the same people who had been displaying disrespectful, classless, and abusive behaviour towards others all night. Despite what some people may think, that is not rock 'n' roll, metal, or badass, it's literally nothing but rude! It's the complete opposite of what musicians want to see, they want to see a unified and collectively happy group of concert-goers having a great time together. Ask any musician in any genre, easier yet, check YouTube and you can find countless videos of musicians, even the most hardcore rockers, stopping to single someone out, or eject them. I get it, maybe fans are trying to stand out in hopes of getting a musician's attention, however, what doesn't make any logical sense to me, is when the musician is having you kicked out or publicly calling and cursing you out in front of everyone, isn't that embarrassing? Why would you spend the money on a concert ticket just to get in to a fight and inevitably be kicked out? Anything for attention, I guess!  At the risk of showing my age, I'll say no artist or band wants another Woodstock '99 incident, specifically during Limp Bizkit's set, where people destroyed not only the place, but also each other. On the flip side, I witnessed fists being thrown, people smashing the ever-living crap out of each other and knocking others down to the concrete floor, just to help them back up, hug it out, and belt out songs with their arms draped around each other. Respect to the mosh pit, as they didn't force involvement on those not wanting to participate. I got to see people getting in to a tug of war over guitar picks and drum sticks, but in the end, shaking hands and carrying on.
Outro thoughts of a "Simple Man"…
It's almost midnight, I'm charged and amped at 100%, and I have been since around 7pm, definitely going to need some time to settle before I can actually go to sleep. Bringing it back full circle, the on-stage product was top notch all the way from beginning to end, it was absolute money on every level. I'm not sure that I have ever been to a show before, where a weak link didn't exist. The show definitely got better as it progressed, but there was never a bad spot. Reflection of what I just saw and experienced fills my brain, as I mentally dissect it and think about the good and the bad. First, I can't help but think of how appreciative I am of my wife for letting me drag her along and working extra shifts just to get this evening off. What follows, is gratitude and thankfulness towards Power 104, Kelowna's best rock, and the SOEC for continuing to bring these amazing concerts to the Okanagan. To the bands, thank you for bringing us such a great product, an excellent show, including a pre-concert, private, acoustic session with One Bad Son, who humbly performed a few songs. I always really enjoy music, the only thing I'm more passionate about than music is my family. I try to get to as many live shows as possible, concerts certainly have a cost, so it doesn't always happen, but as luck would have it, I was fortunate enough to win me in, so another thank you to Power 104, because of you I was able to experience this "Beautiful Mess".
– Brandon King