Armed robbery suspect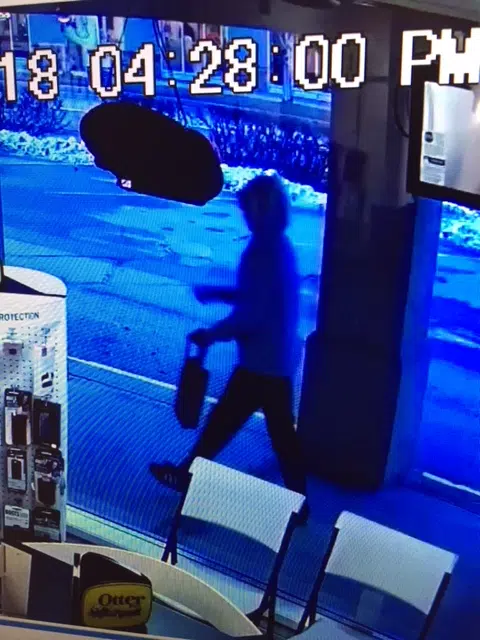 Jan 30, 2018
Jasmin Doobay
Kelowna RCMP continue to investigate an armed robbery after a suspect male entered a downtown Kelowna business brandishing a hand gun.
On January 26th, 2018 at approximately 4:30 pm, Kelowna RCMP responded to a 911 emergency call of an armed robbery that had just occurred at business in the 2600 block of Pandosy Street Kelowna BC.
The store employee advised officers that a male entered the business and demanded money while pointing what appeared to be a black handgun.  The male was given an undisclosed amount of money and then fled the scene northbound on Pandosy Street.
"There were no customers inside the store at the time of the offence and thankfully the employee was unharmed during this brazen robbery" stated Cst. Lesley Smith Kelowna RCMP.
The male suspect was described as wearing a light grey hoodie, a scarf covering his lower face, black pants and black shoes.  He was approximately 5'6" in height, had a slim build and was carrying a black bag.
Kelowna members along with the Police service dog responded to the scene and immediate area but despite their efforts and extensive patrols, police were unable to locate the suspect.
"RCMP officers were able to collect video surveillance from the neighbouring business and we are sharing still photos of the footage with the public in hopes of identifying this male." States Cst. Lesley Smith  "The video shows the male suspect in a light grey hoodie carrying a black bag.  The male then covers his face with his scarf and is observed entering into the store where he commits the robbery."
Anyone with any information about this crime is asked to contact the Kelowna RCMP at 250-762-3300. Or remain completely anonymous by calling Crime Stoppers at 1-800-222-8477, by leaving an online tip at www.crimestoppers.net or by texting your tip to CRIMES (274637) ktown.