Mayweather Vs McGregor – Fight of the Year…Or More!!!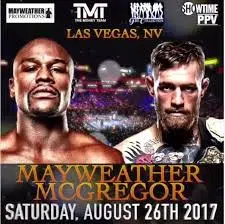 Retired boxer Floyd Mayweather will return to the ring at age 40.  There's talk that he could earn upward of 100 million dollars!  Yesterday Mayweather confirmed a boxing match against 28-year-old Conor McGregor.  The UFC lightweight champion also confirmed via twitter, (quote) "The match is on!"
The August 26th match in Las Vegas its an undefeated boxer against the mixed martial arts most-feared fighter.  Though, this will be McGregor's first boxing match.  Vegas oddsmakers believe Mayweather is the favourite…for now!