27 years strong: local Síya Celebration bringing communities together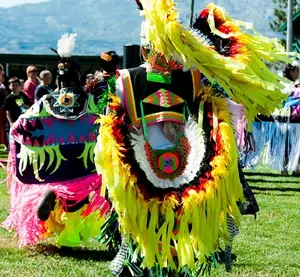 Jun 02, 2017
Jasmin Doobay
The 27th annual síya? festival was held today at Pine stadium in WestBank. The festival, which started out as a celebration for the Westbank First Nation school children, has since grown into something much more, involving many different people from around the community.
This year's festival includes tradition dancing, singing, and drumming.
They also have brought in people from the around community who are selling local art, jewelry and crafts advertising many beautiful designs and colors common among our First Nations people.
While the celebration is just that, a celebration, the festival is also a way for the WestBank First Nations to gather for prayer and to perform ceremonies. Local elders read prayers and drummers sang traditional songs.
Síya translated means Saskatoon berry and is a representation of everything that grows above ground MC and event organizer Jordan Coble told us. He says that this celebration is for ' celebrating the fruits of our life' and all the hard work the land and it's people do through out the year.
With that being said he also invites every one of all ethnicities to come join in on the festivities.
" It's blending many different walks of life, it's sharing, and anyone can come in for an authentic gathering… it's coming together as a community".
If you want to join in the fun the event will be on until 3pm at Pine Stadium 1900 Quail Lane, WestBank BC.
BCIT' Shelby Meyer reporting