The Gratitude Project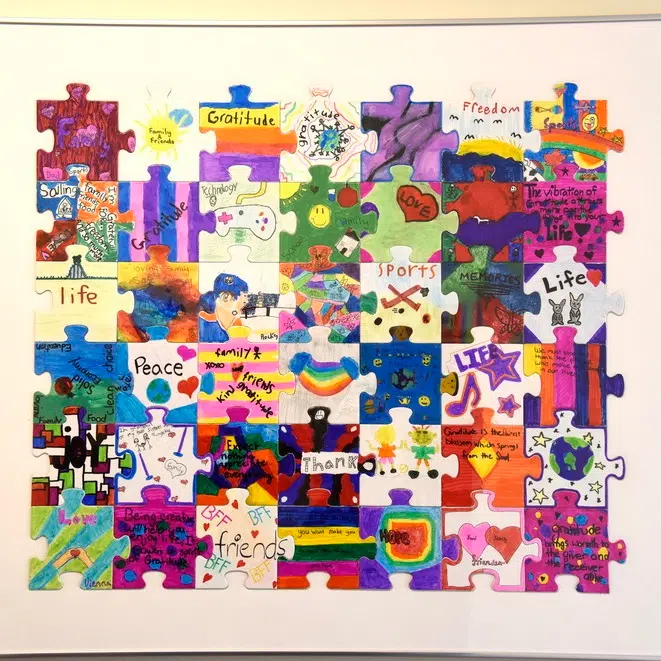 May 19, 2017
Jasmin Doobay
This week, partners gathered inside the new Kelowna RCMP Police Services Building for the private unveiling of an art piece created collaboratively by a local artist, with the support of students of both Central Okanagan public schools and University of British Columbia Okanagan Campus.
In October 2016, organizers of the month long Gratitude Project, which educated and empowered residents of Kelowna to show their gratitude in a variety of ways, inspired a group to come together to collectively show their appreciation and support for their local RCMP through creativity.
Our collective aspirations of the Gratitude Project were to honor the dedication and commitment of our RCMP Detachment and to remind the members each day that our community is grateful to them for keeping our community safe and protected, states Ken Stober, Third Space founder. The visual impact has been realized through this permanent art installation that will be housed in our local police station.
Ken further adds, I am proud of our Central Okanagan public school students in capturing what gratitude means in their lives, the UBCO Nursing students for writing the gratitude curriculum and our talented artist in creating the piece that expresses this so creatively.
As the artist involved with the Gratitude Project, Carolina Sanchez de Bustamante states, I was so inspired to assemble these joyful jig-saw puzzle art pieces designed by such creative children, into a four piece framed permanent art installation. We hope that these artistic expressions of gratitude captured by local students, will act as a daily reminder to the men and women of the Kelowna RCMP, as well as all the detachment's employees, of the high esteem we hold for their role in our community, she adds.