Salvation Army Fashion Show
Feb 21, 2017
Jasmin Doobay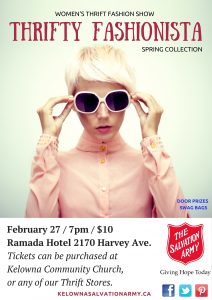 They will be featuring casual wear, work outfits and over the top party gowns.
Everyone with a ticket will get a swag bag filled with such items as jewelry, picture frames, lip balm, notecards and more.
There will be door prizes and a surprise grand prize draw.
Models are from our community and represent the diversity of women today.
Tickets are available at our thrift stores–Westbank, Rutland and Sutherland Avenue for $10 each.
Learn how to look fabulous on a thrifty budget.
Follow the story of hope on Facebook at The Salvation Army Central Okanagan, on Twitter @kelownasallyann and on our website www.kelownasalvationarmy.ca